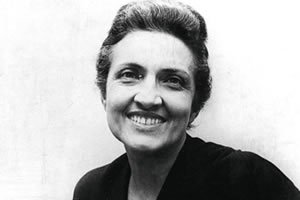 Cecília Benevides de Carvalho Meireles (November 7, 1901 – November 9, 1964) was a Brazilian writer, educator and poet.
She is a canonical name of Brazilian Modernism, one of the great female poets in the Portuguese language, and is widely considered the best female poet from Brazil
Cecília Meireles de Carvalho was born on November 7, 1901, in Rio de Janeiro. Orphaned at the age of 3, she was raised by her Portuguese maternal grandmother.
She began to write poems when she was 9 years old.She graduated from Normal School of Rio, dedicating herself to the primary teaching. Early in the 1930's, she started teaching literature at several Brazilian universities. In her free time, she studied singing, violin, languages and folklore.
Cecília Meireles dedicated herself to the renewal of education, having later organized the first children's library in Brazil. She published her first book in 1919, "Espectros".
She married the Portuguese painter, Fernando Correia Dias, in 1922, who suffered from deep depression and committed suicide in 1936. The suicide of her husband forced her to expand her activities as teacher and journalist, and to educate her 3 daughters on her own.In 1939 she won the Olavo Bilac poetry prize for her book 'Viagens', one of her major works, which proved to be her high point as poet.
She traveled in the Americas in the 1940s, visiting the United States, Mexico, Argentina, Uruguay and Chile. In the summer of 1940 she gave lectures at the University of Texas, Austin. She wrote two poems about her time in the capital of Texas, and a long (800 lines) very socially aware poem "USA 1940", which was published posthumously.
She married again in 1940 to Heitor Vinícius da Silveira Grilo, a professor in agronomy engineering. In that same year, she became a professor and taught at diverse universities, including the University of Texas where she was a visiting teacher of Brazilian literature.
As a journalist her columns (crônicas, or chronicles) focused most often on education, but also on her trips abroad in the western hemisphere, Portugal, other parts of Europe, Israel and India (where she received an honorary doctorate.
In 1953, in Goa, India she participated in a symposium on Gandhi's work. There attained the title of Doctor Honoris Causa from the University of India. India became a major influence on her poetry, and she taught herself Hindu and Sanskrit.
Meireles translated diverse plays, including those of Federico Garcia Lorca, Rabindranath Tagore, Rainer Rilke and Virginia Wolf. Her poetry has been translated into Spanish, Italian, German, English, French, Hindu, Urdu and Hungarian among others.
Even though many of her works included lyrics in free verse, she never abandoned the traditional forms and French symbolism. She was affected by many literary movements, yet her poetry remained very personal, considered by many as spontaneous lyricism.
Cecília Meireles left a large collection of poetry, prose, and many books written for children.
She died of cancer in Rio de Janeiro, on November 9, 1964.