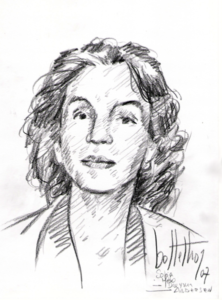 Sophia de Mello Breyner Andresen (November 6, 1919 – July 2, 2004) was a Portuguese poet and writer.
Sophia de Mello Breyner Andersen was born on November 6, 1919 in Porto, Portugal. She was the daughter of Maria Amelia de Mello Breyner and João Henrique Andresen. She had Danish ancestry on her father's side, notably her paternal great-grandfather, Jan Andresen, traveled alone to Porto as a boy and never left the region. In 1895, Sophia's grandfather bought Quinta do Campo Alegre, now known as the Porto Botanical Garden, where he raised his family.
As stated in a 1993 interview, the house and grounds were "a fabulous territory with a large and rich family served by a large household." Her mother, Maria Amelia de Mello Breyner, was the daughter of Tomás de Mello Breyner, Count of Mafra, a doctor and friend of King D. Carlos. Maria Amelia is also the granddaughter of the capitalist Henrique Burnay, from a Belgian family living in Portugal, and future Count of Burnay.
Sophia began her studies at the new Sacred Heart of Jesus College, at 1354 Avenida da Boavista, Porto, entering with the school's first class.
Raised in a mix of bourgeois and old Portuguese aristocracy and educated with traditional Christian morality, she was leader of Catholic university movements while taking classes in Classical Philology at the University of Lisbon (1936-1939), which she never concluded. She collaborated with the magazine "Cadernos de Poesia", where she made friends with influential and well-known authors: Ruy Cinatti and Jorge de Sena. In time, she became one of the most representative figures of a liberal political attitude, supporting the monarchic movement and denouncing President Salazar's regime and its followers. The song called "Cantata da Paz", became famous as an intervention song of the Progressive Catholics: "We see, hear and read. We cannot ignore!"
In 1946, she married journalist, politician and lawyer Francisco Sousa Tavares (who she would divorce in 1985) and became mother of five children: a university professor of letters, a journalist and writer (Miguel Sousa Tavares), a painter and ceramist and one more daughter who became an occupational therapist and inherited her mother's name. Her children motivated her to write children's books.
In 1964, Andresen received the Grand Prize of Poetry by the Portuguese Society of Writers for her book Livro Sexto. After the Revolution of 25 April, she was elected to the Constituent Assembly in 1975 by the Oporto circle on a Socialist Party list while her husband joined the Social Democratic Party.
Andersen won acclaim as a storyteller with Contos Exemplares (Exemplary Tales), "Histórias da Terra e do Mar" (Stories of Land and Sea), and a number of children's books – A Menina do Mar (The Sea Girl), O Cavaleiro da Dinamarca (The Danish Knight), A Floresta (The Forest), O Rapaz de Bronze (The Bronze Boy), A Fada Oriana (The Fairy Oriana).
She also published several poetry books and anthologies, including: Poesia, Dual, Livro Sexto, Coral, Dia do Mar, No Tempo Dividido, Grades, O Nome das Coisas, As Ilhas, Antologia, Geografia, Navegações, O Búzio de Cós.
In 1999 she became the first woman to receive the highest Portuguese award for poetry, the Prémio Camões (Camões Prize). She was also awarded the Max Jacob Poetry Prize, in 2001, and the Spanish Prémio Reina Sofia in 2003.
Beside her work as a writer, she translated Dante and Shakespeare into Portuguese.
Andresen died at the age of 84 on July 2, 2004 in Lisbon, at Pulido Valente Hospital. Initially, her body was buried in Carnide Cemetery, but on February 20, 2014, the Assembly of the Republic unanimously decided to honor the poet by entombing her remains in the Portuguese National Pantheon.
In the Lisbon Oceanarium, since 2005, some of Andresen's poems with a strong connection to the sea have been placed for permanent reading in the rest areas, allowing visitors to absorb the boldness of her writing while immersed in a deep sea environment.
"Poetry", she explained, "is my understanding of the universe, my way of relating to things, my participation in reality, my encounter with voices and images. This is why a poem speaks not of an ideal life but of a concrete one: the angle of a window, the resonance of streets, cities and rooms, the shadow cast by a wall, a sudden face, the silence, distance and brightness of the stars, the night's breath, the scent of linden and of oregano." The sea is probably the most central theme in her poetical works. Other recurring themes are Ancient Greece and ideas of freedom and justice.
Her poetry has been translated into English by Ruth Fainlight, Richard Zenith and most recently by Colin Rorrison with Margaret Jull Costa, as well as into many other world languages.
A documentary short film about Andresen was produced in 1969. It was the first completed film by director João César Monteiro (then using the name João César Santos).