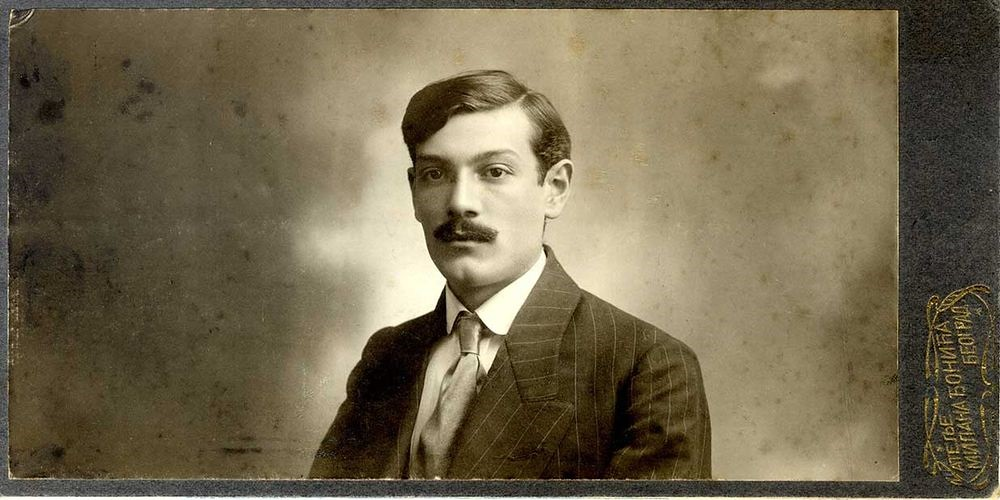 Milutin Bojić (19 May 1892 – 8 November 1917) was a Serbian war poet, theatre critic, playwright, and soldier.
A native of Belgrade, he began writing poetry at an early age and published a number of literary reviews under a pseudonym while he was still a teenager. He rose to prominence during the Balkan Wars, writing about his experiences in territories newly retaken from the Ottoman Empire. The outbreak of World War I interrupted Bojić's studies at the University of Belgrade and forced him to postpone marrying his girlfriend, Radmila Todorović. The couple was separated in the chaos of war, and Bojić left Belgrade with his family and relocated to Niš, where he worked as a military censor and wrote articles for a local newspaper to pay his family's bills. In October 1915, the Serbian Army was overwhelmed by a combined Austro-Hungarian, Bulgarian and German invasion and forced to retreat to neutral Greece via Albania. Bojić and his younger brother joined the exodus, marching for several weeks through Kosovo and Metohija, Montenegro, and northern Albania, where they were finally reunited with Bojić's fiancée. Bojić was not allowed to accompany his brother and fiancée on a ship destined for Italy because he was of fighting age, and had to continue marching to Greece without them.
In early 1916, Bojić reached the Greek island of Corfu, where he was recruited to work for Serbian military intelligence. That summer, he was transferred to Thessaloniki, where he continued working for the military. In August, he was granted leave and sailed to France, where he reunited with his fiancée and his brother. Bojić returned to Greece several weeks later and was diagnosed with tuberculosis in September the following year. Owing to the political connections of his patrons, he managed to find care at an exclusive military hospital in Thessaloniki, but by late October his condition worsened. He died in early November at the age of 25. He was initially buried at the Allied military cemetery at Zeitenlik, but in 1922, his siblings had his remains relocated to Belgrade, where they were reburied beside those of his parents.
Bojić's popularity grew exponentially following his death. Many of his poems received widespread critical acclaim for their portrayal of the Serbian Army's retreat during the winter of 1915–16 and its stay on Corfu, where thousands of soldiers succumbed to disease and exhaustion and were buried at sea. Bojić's work remained popular in Yugoslavia for much of the 20th century, cementing his reputation as one of the greatest Serbian poets of all time.
Plava Grobnica – Ode to a Blue Sea Tomb
Plava Grobnica is an ode, war poem, written by Milutin Bojić during World War I. It is dedicated to the soldiers that were buried in the sea near Vido island, in Greece.
In his unforgettable poem, Bojić expressed the tragic fate of Serbia, whose army had passed through Montenegro and Albania to the Greek islands of Corfu and Vido, where over 5000 Serbian soldiers were buried at sea.