Interview – Olivera Radić: Serbian Language and Literature teacher in Orahovac (Kosovo and Metohija), chronicler, journalist, humanist
Author: Nataša Dinić
In many different historical eras, just like in the Contemporary Era, numerous human kingdoms have done a lot of harm to peaceful peoples such as the Serbian people and their Church in Kosovo and Metohija.
The Battle of Kosovo is not over yet and all Serbian battles for the defense of Orthodoxy and Serbiandom are woven into it. All Serbs, wherever they lived, are appealed to and invoked to cherish the Kosovo Covenant – written by God's hand – as their spiritual root, a gift and a pledge, and to treasure it as their cradle.
The survival of the entire Serbiandom is inseparably interwoven and connected with the survival of Serbs in Kosovo and Metohija.
They, although in a restricted space, do not measure their freedom in meters because they know that its other name is Love.
To remember all these truths, to remember who we are, to always return to Kosovo and Metohija and begin everything from there… with her unobtrusive, but overwhelming and awakening beauty, with sorrow, wounds and melancholy, but always with joy, love, faith and hope, she invites us and takes us back to Lord Jesus Christ and our ancestors – Olivera Radić.
Dear Olivera, how are you?
I am well, thank God, and I wish the same to all the readers of The Cradle at the beginning of this new 2021 year of our Lord.
For decades, every year has been harder and harder for Serbs in Kosovo and Metohija… How many Serbs live in the Serbian part of Orahovac today and what do they live on?
You said it right, it is getting harder every year. Looking at the sample of Orahovac, I can see what is becoming of the entire Serbia. As the years go by, it seems to me that the living space for Serbs in Kosovo and Metohija is getting narrower in the physical sense, and for Serbs in other parts of Serbia, in the spiritual sense.
Here in Orahovac, our living space is shrinking constantly – there are no more wires that we were fenced with in the first years following the arrival of KFOR, but, in our minds, they are still around us. Although we don't see them, we know where the line is, and when we cross it, we enter a more dangerous world for us – a world that often lets us know that it doesn't want us there, that it is bothered by our language, our sanctums and our faith, our graves…
There is less and less space for young people, children. There are no playgrounds, no cafes, no folklore dance clubs, no cinemas, no factories, no jobs, no… There is a lot of what's not there, so several more families have left recently.
Out of 5,200 Serbs who lived in the municipality of Orahovac before 1999, only 800 remain today. There are 280 Serbs in the town of Orahovac, about 500 in Velika Hoča, and a few monks in St. Cosmas and Damian's Monastery in the village of Zočište.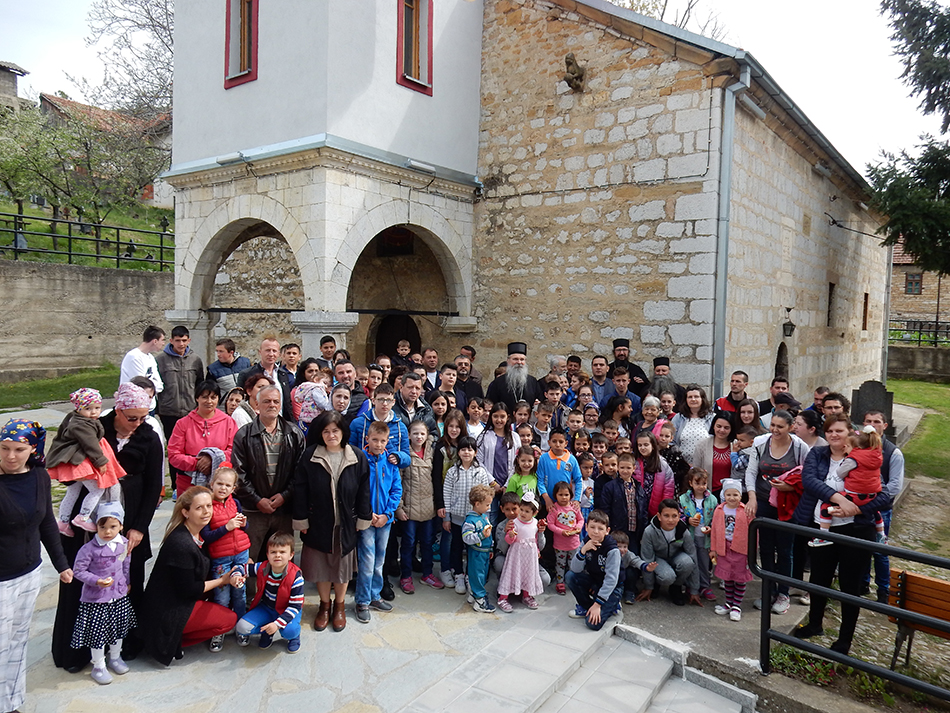 It's wintertime. How do Serbs in Orahovac heat their homes? How safe are they?
Winter is the season when we stay indoors. There is firewood. People buy it when and as much as they can. Some are able to buy, but some wait for alms, i.e., good people to help and donate firewood…
Safety depends on "high politics". Whenever certain political developments are under way – agreements or negotiations – we know that it will be reflected on the micro level, in our lives.
Does humanitarian aid arrive in Orahovac?
Unfortunately, instead of providing the people with a means of survival, so that they can work and earn on their own, the majority is forced to depend on alms. Of course, it is important that there are people and organizations that help, but it would be better if everyone could make a living themselves. Most people receive help through Visoki Dečani Monastery Fund, but there are also humanitarian organizations that come here and help people. I should mention some of them: Serbs for Serbs, Our Serbs from Chicago, Delije, Svi za Kosmet, Bashtionik from Banja Luka, and many others.
Did the children in Orahovac get their Christmas presents this year? How did you celebrate Christmas?
Most people rejoice when they see that children are happy and children are our future, blessed be the Lord. While there are children, there is us. The Christmas presents for children were brought to Orahovac, as well as other Serbian communities in Kosovo and Metohija, by humanitarian organizations Svi za Kosmet, Metohija za Mlade, Srpska nit, NGO Pandurica from Nikšic, Osmeh na Dar…
We celebrated Christmas traditionally, by cutting and blessing the badnjak (TN: an oak tree branch central to Serbian Christmas celebration) on Christmas Eve and with liturgy on Christmas Day. The new measures to prevent the spread of COVID-19 changed things a little, as there were no mass gatherings, but the joy was there. The Divine Infant was born, the Holy Child came to earth, among us, and illuminated us with lights of hope.
You are a teacher of Serbian Language and Literature. How many students and employees are there in Orahovac high school?
Yes, I have been working as a Serbian Language and Literature teacher at High School Orahovac since 1998. That year and the following year, there were three classes in all four grades and twenty students in each class. And then the war happened – attacks on our people, the bombing, kidnappings, murders, persecution… People moved away, and our students left with their parents. There have been fewer and fewer people, so there have been fewer students. However, some have stayed, blessed be the Lord.
In this school year of 2020/21 at the high school, there are eighteen students from Grade 1 to Grade 4, taught by fifteen teachers.
There are 45 students in Dositej Obradović Elementary School in Orahovac. All these children are our great joy and hope.
What are the working conditions in High School Orahovac?
Considering that we have been working in an improvised school for 22 years, that we do not have access to the old school buildings downtown, where we had worked until 1999, and that a supermarket and a banquet hall have been adapted into the first and second floor of the school – all I can say is that the working conditions are not great, but good enough.
Thanks to the support of the Ministry of Education of the Republic of Serbia, whose system we follow, and thanks to many humanitarian organizations, albeit small, the school has been equipped with the essentials. We have computer, biology and chemistry labs, as well as some equipment for physics. What we do not have is play area. The school does not have a yard. The playground is some two hundred meters away from the school.
In September last year, NGO Pandurica from Nikšic launched a fundraising campaign for the construction of a gym on church land. That campaign is still ongoing. Depending on the response from the donors, we hope to have a gym by next year and that children will have their own space for play and socializing.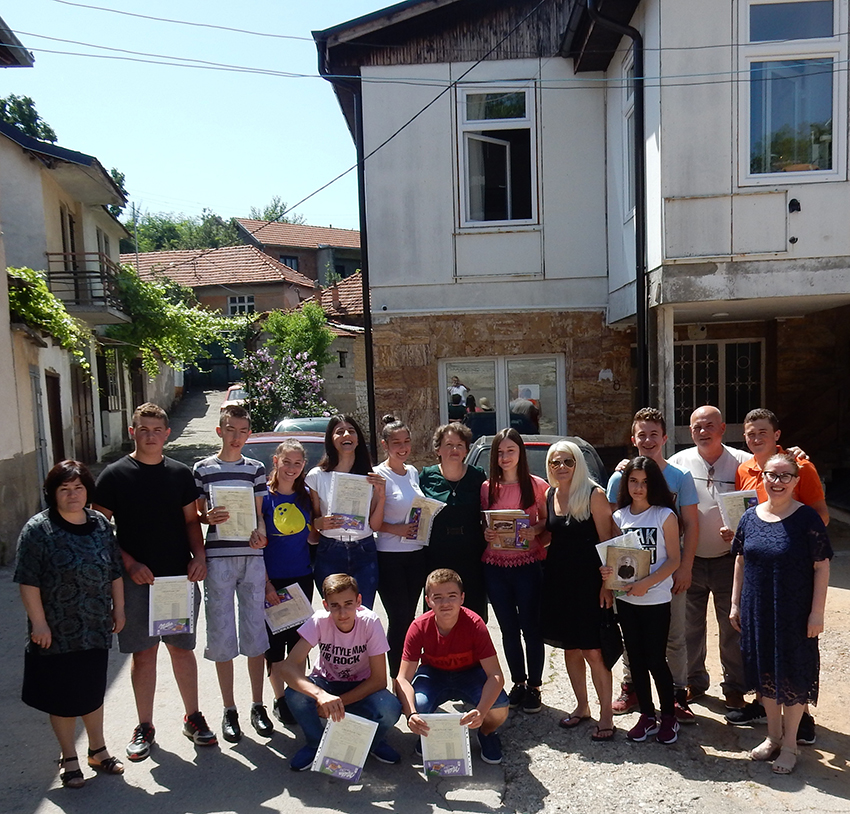 How has the coronavirus pandemic changed the school? Are the classes in-person or online now?
We adapt to the current conditions and situation. We were in school with the students for most of the first semester and at the beginning of the second. We have a small number of students in the classes, so it is easier to follow the preventative measures. We did have online classes for only a couple of weeks, but we hope that this won't be necessary again because neither the teachers nor the students liked it.
Do students have computers, textbooks, books, snacks, winter clothes and shoes at school or in their homes?
Not all students have computers. Most of them have textbooks, some given by the Republic of Serbia, some bought with the help of humane people. We have equipped the library with a lot of required reading material.
There is enough food, clothes and shoes. Elementary students are at school in the afternoon. They have breakfast at home, and they buy snacks at school. Since most of our high school students travel from Velika Hoča to Orahovac every day, with the help of our benefactors, we managed to provide them with scholarships, so that each student receives 50 euros a month.
Scholarships are sent to us from Australia (Grandma Ana and anonymous OV), Christian humanitarian organization Radosti Moja and European Solidarity Front for Kosovo from Germany, Francois and friends from France, Sara Ristić from Belgrade… I would like to thank all of them here for helping with the survival of our school and the survival of Serbs in the "Paradise Garden", as Orahovac is called in the famous song.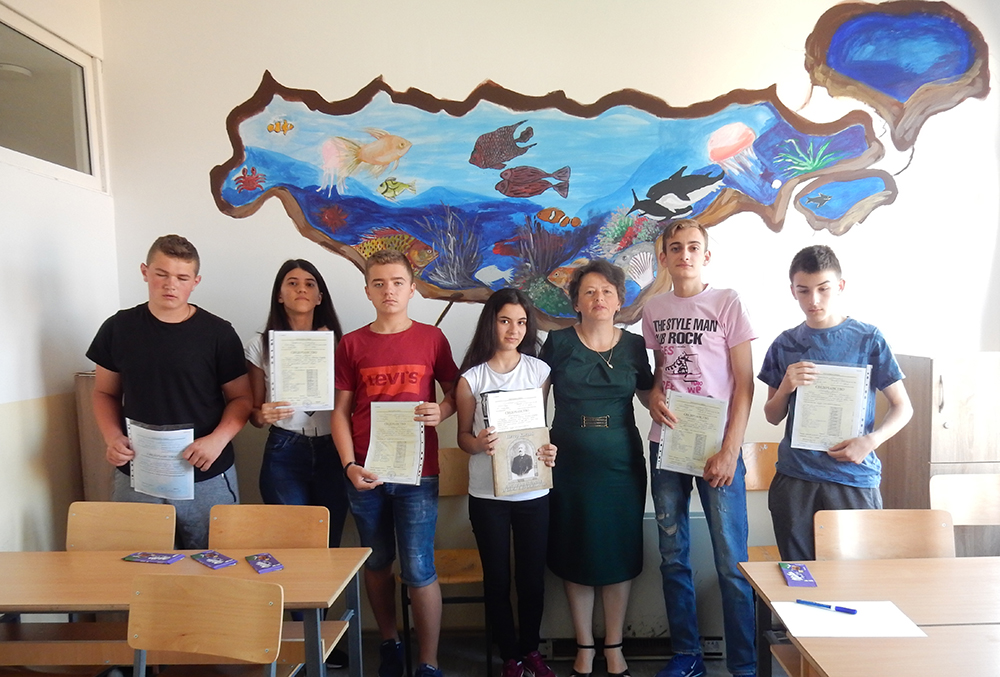 For more than two decades, you have been recording all the events from the life of Serbs in and around Orahovac. Your chronicles and diaries can be read in many magazines. Who or what is the motive for everything you write?
I have loved reading books from an early age. My parents were teachers (they are retired now) and I fell in love with books and teaching thanks to them. I also liked to keep records of certain events in my childhood. I kept a diary, just for myself at first. Later, when everything started happening, when people around me started disappearing, when my friends, my brothers were getting kidnapped or murdered – I kept on with the diary… I felt that that way these people would still be here, with me, they would keep on living… And then the events too…
Gradually, it becomes a habit – I need to write because if I don't, it's as if it never happened. Unfortunately, in the first years after the arrival of KFOR, the soldiers forbid us from taking photos or videos… Not until later have I realized that they were keeping us from spreading the truth, which they were stretching, twisting… Instead of being shown to the world as victims, we became criminals because someone needed to portray us that way in order to achieve their political goals.
So, I started to grab, to steal moments, to take parts of my homeland, to take away the sanctums that they burned and destroyed, to pull out of their hands the friends they took away from me, to keep letters and sentences from destroyed tombstones…
I get tired, sometimes I want to give up… It takes strength, perseverance. We need to find people who will hear it, who will read what I write. I often think I don't reach enough people. But even if ten people find out the truth, and if five of them want to help – it makes me happy. The strength is not in numbers, but in the Lord! He pushes me on because everyone must leave a legacy for the future. I give only a part of the truth to my children… lest we forget…
You are also a visual chronicler who uses photography to record the events from everyday life of the Serbs in Metohija and makes sure they are never forgotten. Your photographs were shown at the exhibition at Matica Srpska in Novi Sad in 2018. Can you tell us more about these photographs? What was the motive behind them?
From Metohija to Resurrection exhibition was shown in Novi Sad in Matica Srpska. The reason behind the photos is the same as the one behind my written records. It's just that sometimes it is easier to take photos than to write. Words are not enough to capture faces, movements and emotions. I did not take photos with the intention of having an exhibition, but to remember, together with my children and friends, a city, a homeland, sanctums, a time. The photos show children, sanctums, women, monks, vineyards, graves, liturgies and services. They capture life fighting death …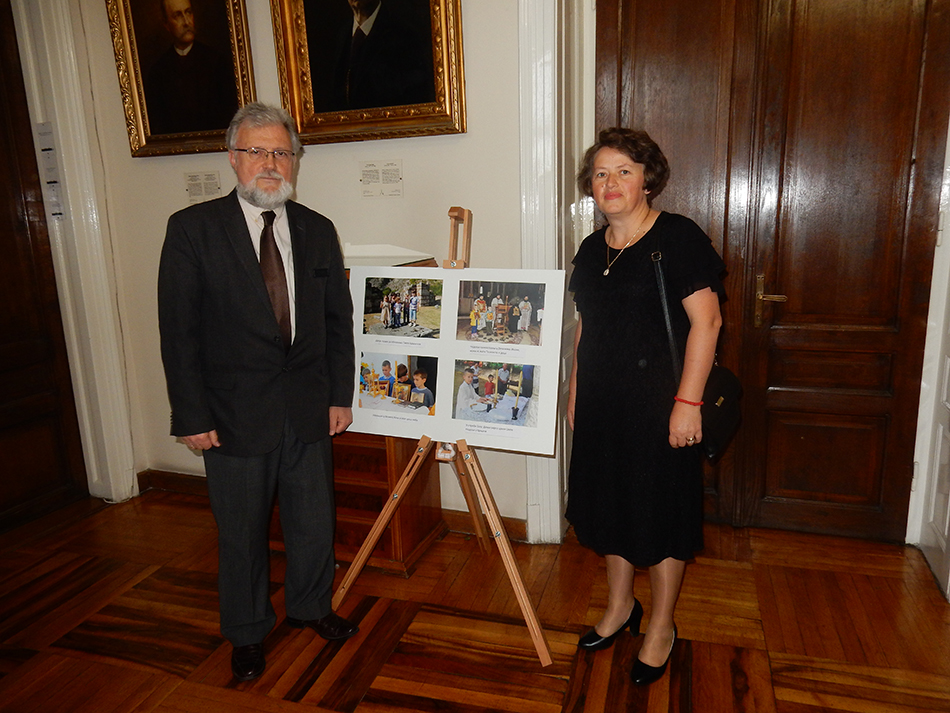 Almost all the great monasteries of medieval Serbia had their metochions in Kosovo and Metohija. With the founding charter of the Hilandar Monastery from 1198, began the heritage of Hilandar. Hilandar has been given gifts from Hotačka Metohija – your homeland. Do you ever visit Velika Hoča now? What does the life of Serbs in Velika Hoča look like today?
It is a great blessing to be born in Velika Hoča, but also an obligation and a great debt to our ancestors. Growing up in a village where there is a church or a churchyard at every step, full of happy people and children… – this is what was taken away from us by the international "peacekeepers", first by the bombing and then by this twenty-year period of quiet persecution.
I still visit Velika Hoča, but not very often because it hurts too much to see how everything has changed. My parents still live there, but my brothers moved away and went to find jobs and better lives. The neighbors moved away as well. My childhood and youth were full of children's and young people's laughter. Now there are hardly a few young people in my street. It seems to me that even the roosters do not announce the dawn as they used to… I know that I shouldn't think like that, but I'm trying to preserve the memory of my street from a better time.
However, what is important is that the village lives after all! There are more than eighty children in Velika Hoča and there are also young married couples. If only there were more jobs for them, they would never leave.
And most importantly, the sanctums are still there. The Holy Liturgies and the bell ringing from the Holy Archdeacon Stephen Church seem to be saying: "This village has gone through wars, migrations, returns and wars and new migrations again… There will be a new return, God willing!".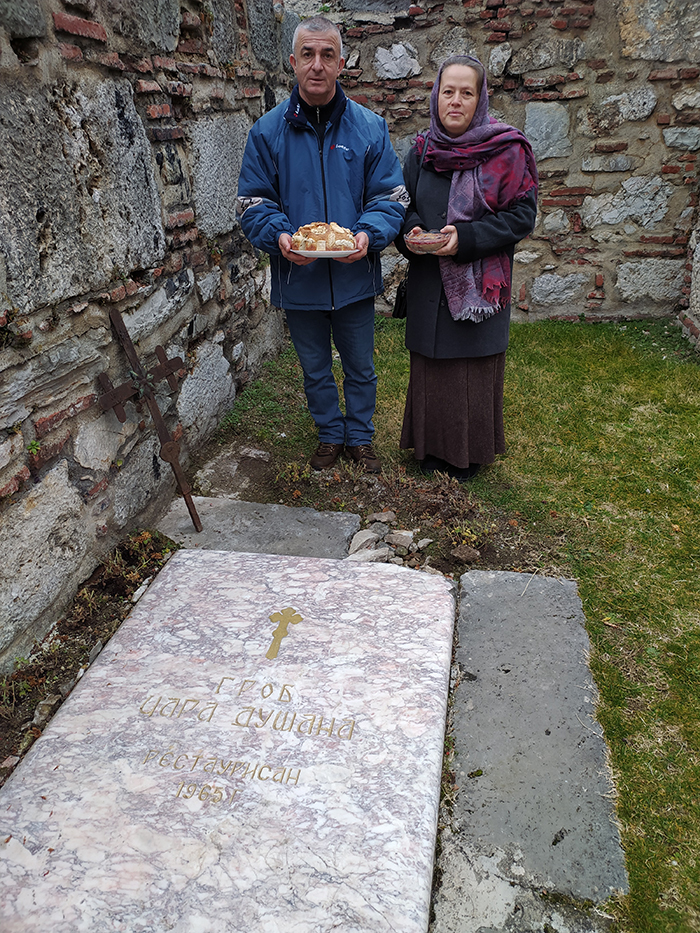 The whole world has been affected by the corona virus pandemic. Are there any infected people among Serbs in Orahovac and in Kosovo and Metohija in general?
There were no cases at all until November last year, and then dozens of people suddenly became ill. Three people died in Velika Hoča. These days, the situation has stabilized. There are a couple of cases, but they are not seriously ill.
What is it that encourages, comforts, leads and makes your students, you, your family, colleagues at school and all the remaining Serbs in Kosovo and Metohija happy? What is it that is most difficult?
The path of our ancestors leads us, our roots hold us, the Metohijan sun warms us and God protects us. He is the one who watches over us with his saints. And when we suffer, we know it is His will or permission. We would suffer even if we were elsewhere. You know, many took their children away from here to save them, but there have been a dozen cases where the children died – in car accidents, from drugs, suicide…
What is your greatest wish and hope?
I only wish and hope for better days, for our people to return, for no more war, for us to live free, for factories to open again, for people to work and make a living.
What would be your message to all Serbs, both in Serbia and abroad?
To keep their piece of freedom, to appreciate it even when they think it is not enough for them. I thank everyone for standing together with us, especially the Serbs in the diaspora from Australia to US and Russia. Many of them are our strength in survival. Not only do they send us money and other kinds of help, but they are with us with love and support – and that is an invisible thread that pulls us forward.
For the end of this interview, please tell us – who or what is your cradle?
The entire Metohija is my cradle – its winds intertwined with the sound of the bells coming from the monasteries of Zočište, the Holy Archangels, the Visoki Dečani, and the Patriarchate of Peć, sway me and prevent me from slipping into the dream of oblivion. They reawaken me and rock me gently from the Šar to Prokletije Mountains. Metohija washes my face with water from rivers Drim, Prizren Bistrica and Pećka Bistica and gives me communion with wine from the vineyards planted by the hand of St. Simeon Nemanja in Velika Hoča… Metohija covers me with the sky where the sun shines most beautifully…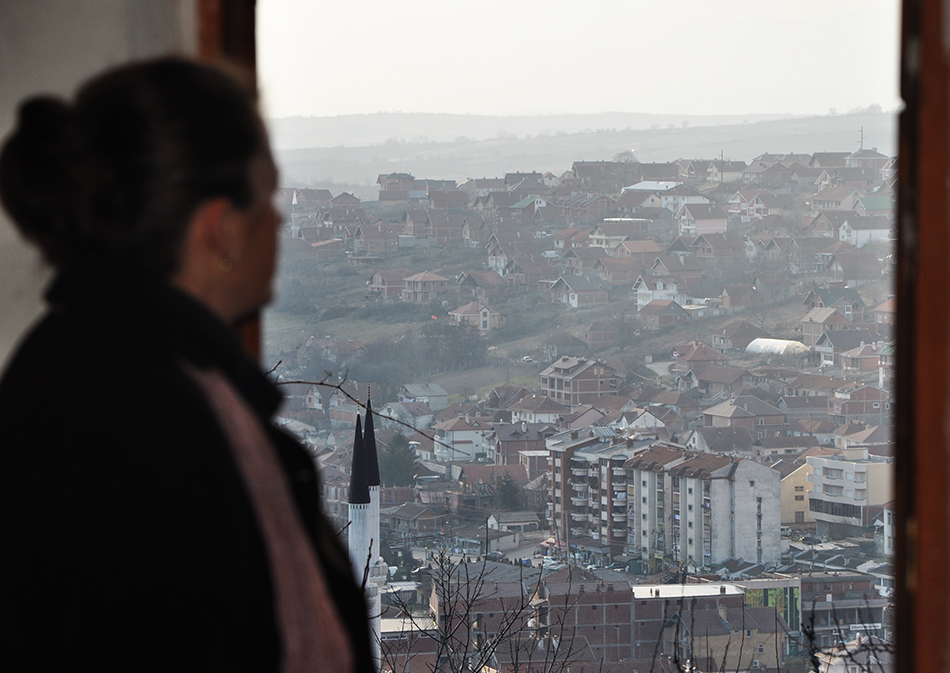 Thank you so much for this wonderful conversation.
The editorial board of online magazine The Cradle wishes you all the best and we hope to meet you – in Kosovo and Metohija!
---
If you are willing and can help improve the lives of Serbian children and youth in Orahovac in Kosovo and Metohija, all the necessary information regarding the payment can be found at the link.
There is a plan to build a gym on the church property near the Church of the Assumption of the Most Holy Mother of God in Orahovac. The gym would be a place for gatherings, socializing, and sports activities for Serbian children and youth in Orahovac.
Thank you in advance for your help!